Deodorising your garbage chute (and bin room) is achieved by using a special kind of air purification system. The following Garbage Doctor® models have been engineered for garbage chute odour removal: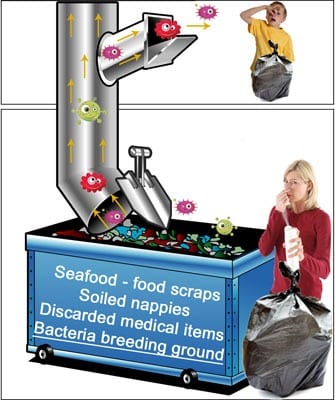 Because garbage chutes have a natural up-draft (as a result of hot air rising), the odours and germs within your chute will typically originate within the garbage bins/compactor, or within the bin room itself – especially if you have multiple bins stored within the same room as the chute access. The natural up-draft then takes these odours (and airborne pathogens) through the chute, where they escape into the building when residents dispose of their rubbish through the chute doors on each level of the building.
Our deodorising systems are designed to be installed at the base of the garbage chute, in the bin room. Once the equipment has been mounted on the wall, we then use either a silicone or PVC hose to disperse the Ozone as close as possible to the origin of the garbage odours. In most cases this will be the garbage bins below the chute, or the garbage compactor (depending on your buildings configuration). We also run a pipe to disperse Ozone into the garbage chute itself – this allows the Ozone to travel up through the chute, with the natural up-draft, and provide germicidal and odour control as it goes.
Benefits of our unique dual air purification systems
Ozone is extremely effective at deodorising odours and providing germicidal control. However, because there are Workplace Health & Safety limitations on the amount of Ozone which should be used in public areas, further treatment above these levels can only be achieved by combining a second, non-ozone producing air purifier. This is the benefit of our industry leading dual air purification systems.
Some of our Garbage Doctor® systems contain a second, completely separate air purifier, which is continually circulating air within the garbage bin room 24 hours a day, 7 days a week. When air passes through this second purifier, it is treated by a powerful Germicidal UV light and a process called Photo Catalytic Oxidation. Both of these technologies are well proven in their germicidal ability and their effectiveness for oxidising (removing) garbage odours. Providing this additional deodorisation within the bin room assists with odour control in the garbage chute also – as it is the air within the garbage room which will eventually be sucked up the chute.
For more information on these exciting technologies, please review the 'Technologies & Education' section of this website.
Garbage Chute Odour Control Installations Examples
(High-rise and commercial buildings)
Eliminate garbage chute odours in your hi-rise apartment building with our advanced range of odour management systems.
(Our garbage chute odour removal systems are available in; Sydney, Brisbane, Melbourne, Auckland, Gold Coast and the Sunshine Coast.)