Your solution for garbage chutes, garbage rooms, commercial garbage bins, and garbage compactors.
The Garbage Doctor® germ and odour control systems have been engineered to provide continuous 24/7 deodorisation in garbage chutes, garbage rooms, garbage compactors, loading docks, grease traps, and for numerous other commercial odour control applications.
There are four products in the Garbage Doctor® range, which can be used for applications ranging from small garbage bin storage rooms, up to massive 80 story high-rise apartment garbage chutes – and everything in between.
All of our systems use advanced, chemical free and environmentally friendly deodorisation and germicidal technologies. We do not mask odours! The Garbage Doctor® physically destroys odours by oxidation while continuous germicidal control is provided using a combination of carbon filters, Ozone, germicidal UV light and an advanced air sterilisation process known as 'Photo Catalytic Oxidation' (PCO).
Most of our odour control systems are available to be purchased, or as a fully maintained lease option in most Australia cities, including; Sydney, Brisbane, Melbourne, Gold Coast and the Sunshine Coast. We also provide services in Auckland, New Zealand.
Commercial Odour Control – Installation Examples
Benefits of our Garbage Odour Removal Systems
| | |
| --- | --- |
| | Industry proven solution - with hundreds of installations in use 24/7 around the country. |
| | Australia's only true 'dual air purification' systems designed specifically for garbage odour removal. |
| | Integrates our advanced 'Si-Zone®' Ultraviolet Ozone generating technology, which creates a clean, reliable and extremely effective germ and odour control solution. |
| | Manufactured using precision laser-cut 304 grade stainless steel. |
| | Combines multiple technologies to provide greater deodorisation performance. |
| | Affordable lease and purchase options available in most major locations, including: Sydney, Brisbane, Gold Coast, Sunshine Coast, and Auckland (New Zealand). |
| | Engineered to operate continuously 24 hours a day, 7 days a week. |
| | 100% Chemical free. |
| | Manufactured to AS/NZ standards. |
| | Includes all electrical test and tagging, to ensure ongoing compliance with AS/NZS 3760 and your States electrical safety legislation. |
Why Choose us for your Garbage Odour Control?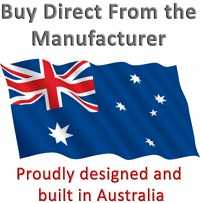 We are a family business and believe in old fashioned business ethics. Our customers are very important to us and we strive to exceed expectations with the level of service we offer. Many new customers are surprised to find we get on-site within hours, not days.
The Garbage Doctor® systems have always been engineered here in Australia and since mid-2013 we have been manufacturing locally also. This gives us complete control of our R&D processes and ensures the latest technologies can get to our customers in the shortest period of time. It also means you are purchasing (or leasing) directly from the manufacturer, which results in much higher quality systems at the same or lower prices than our competitors – while offering an industry leading four year on-site warranty for both our products and the installation.
Other Considerations for your Waste Management System
We recommend that buildings with garbage/trash chutes initiate a 'best practice' for their germ and garbage odour control. This will benefit the residents as well as assisting the body corporate (owners committee) with their fiduciary requirements; to provide a healthy building and address the spread of airborne pathogens within common areas (which generally includes the garbage room and garbage chute).
We recommend the following guideline of what should be included in your waste management program:
| | |
| --- | --- |
| | Installation of a permanent germicidal and odour control system (such as the Garbage Doctor®). |
| | Undertake regular garbage chute cleaning of the internal chute lining- carried out by a professional (it is almost impossible to clean your garbage chute effectively without specialised equipment). |
| | Undertake regular waste removal (collection and emptying of the rubbish bins). When possible, try to reduce the time which full bins are lying around waiting to be emptied. |
Australia's Leading Solution for Deodorising Garbage Odours
All of our Garbage Doctor® deodorising systems are environmentally friendly and use no chemicals or odour neutralising fragrances to 'mask' odours. If you are looking for an air purifier (including ultraviolet ozone generators) to eliminate garbage odour and improve air quality in your refuse system, please do not hesitate to contact our team on 1300-ODOURS for more information and a personalised quotation.
We currently provide odour management systems within Sydney, Brisbane, Melbourne, Auckland, Gold Coast, Cairns and the Sunshine Coast area.
Common Applications for our Commercial Odour Control Systems