How to ensure your building and equipment supplier is in compliance with electrical safety legislation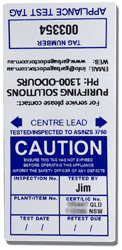 Australian legislation includes strict requirements on electrical safety in the workplace. One important requirement that you should be aware of, is the need to ensure your air purification equipment is electrically tested and tagged in compliance with your states local legislation.
Please note that our maintenance schedules include all electrical test and tagging in compliance with this legislation, so while it is important to understand the below requirements, there's no need to stress as we take care of this for you!
Electrical test and tagging is outlined in the AS/NZS 3760 standard, and applies to all electrical equipment, not just air purifiers. However, because air purification equipment is operating 24 hours a day, 7 days a week (and by nature they have moving parts which produce a small amount of vibration), this testing is very important. There is no need to take unnecessary risks by having a supplier with non-compliant electrical practices, it's just not worth it!
Although there are some slight variations on the requirements from state-to-state, it is generally regarded that:
All permanently installed lease/hire equipment must be test and tagged before installation and then every 6 months. This testing is the responsibility of the company you lease the equipment from.
If you own your odour control system outright, then this testing must be done at least every 12 months. This is the responsibility of the person/company who owns the equipment.
What is electrical test and tagging?
Electrical test and tagging involves a series of tests on the equipment to help ensure there is not a fault which could put people at risk around the equipment. This testing must be done by a competent or licensed person. Once the equipment has been tested, it must have a durable safety tag placed on the power cord. This tag needs to includes details of the person who carried out the testing, what the last testing date was, and when the equipment is next due for testing. A detailed log must also be kept of all past test results.
Fore more information on electrical safety in the workplace, we recommend viewing the 'Safe Work Australia – Managing Electrical Risks in the Workplace' website, or for test and tagging requirements specific to your state, please refer to your states governing body.